News
Annual Meeting

FICO® Score

VISA Account Updater

Mobile Banking

Text Fraud Alerts

Get Away Today Vacations

Enterprise Car Sales
Annual Membership Meeting
Our 93rd Annual Membership Meeting will be held on President's Day, February 19th, at 1:00 P.M. at the Hilton Hotel located at 2200 Elm Hill Pike, Nashville, TN 37214.
Our business meeting will be held, refreshments will be served, and drawings will be held for numerous great prizes with one grand prize. Everyone attending will receive some great give-away gifts. This is a great chance to meet our staff, Management, Board of Directors, as well as many of your co-workers and retired friends. You can have a voice in the election of Directors for the 2018 terms.
Many of our vendors will be on hand to meet you. There will be many door prizes to be given away, including a flat screen television. You must be present to win. We would like to see all of you there to share in the fun and festivities as well as receiving an Annual Report on the financial condition of your credit union.
Board of Directors Election For 2018
The 2018 election for Board of Directors will be held at the Annual Meeting. The terms of Mr. Larry Taylor, Ms. Shirley Watkins and Mrs. Sandy Swofford are due to expire. All Board Members plan to seek re-election. Applications for nominations are available below or can be obtained at the credit union office. Applications must be received by the nominating committee by January 31, 2018. The Board of Directors has appointed the following credit union members to serve on the nominating committee:
Mr. John Beamer
Ms. Jane Oberhellmann
Mr. Mike Hinton
---
FICO® SCORE FREE for Primary Credit Card Holders
Starting in January 2018, we will provide primary cardholders with our Visa
®
Credit Card access to their FICO
®
Score, updated quarterly, for free. Members will have important information about their credit which will include:
Their FICO® Score
The two most influential score factors and an explanation of each factor
A 12 month historical FICO® Score trend
FICO® Score educational content
To view your FICO
®
Score, simply go to
www.ezcardinfo.com
and enroll for our online service. You can review your account information including your most recent transactions, pending charges, track your spending, set notifications, make payments and much more. If you do not have our NPOCU Credit Card, now is the time to apply and take advantage of our low rates and no annual fee.
FICO is a registered trademark of Fair Isaac in the United States and other countries.
---
VISA Account Updater

The NPOCU Debit and Credit cards provide the automatic Visa Account Updater (VAU) service as a free benefit to you.
Are there merchants you have given your Debit or Credit Card to keep on file for recurring payments? If so, this applies to you.
Whenever your card(s) expire, are lost, or stolen and new cards are issued, the service may update relevant card data (card number and expiration date) to appropriate merchants who participate in an effort to facilitate uninterrupted processing of your recurring payments.
| Examples of Recurring Card Transactions | Examples of Account on File Transactions |
| --- | --- |
| Netlix, Hulu, or other streaming services | Uber, Lyft or other ride services |
| Monthly Utilities | Online Shopping Websites |
| Gym Memberships | Online Payment Services |
| Insurance Premiums | Presriptions |
| Recurring Charitable Donations | |
To Opt Out of this service anytime, please contact Member Services at 615-871-4221.
---
Have you got our Mobile Banking App?
Access your accounts anytime any place with the Nashville Post Office Credit Union App. We know your life is busy. Our mobile app is a convenient, secure, and fast way to conduct your credit union transactions. The mobile app allows you to:
Check Balances
View Transaction History
Pay Bills From Your Account
Transfer Money
Make Loan Payments
Set Up Alerts and Notifications
View ATM Locations
See Loan Specials
Find Share Branching Locations
Access The Credit Union's Website.
If you have home banking and a smartphone you can download the app on the Apple App Store or Google Play. If you have an iPad, you can download the app from the iPhone section. You can log into Mobile Banking with the same User Id and password that you use for Virtual Branch home banking. If you change your password in one it will change it in the other program because the same credentials are used for mobile banking and home banking. For more information see our Frequently Asked Questions.
---
Visa Credit Card Text Fraud Alerts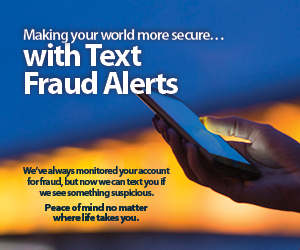 We have new fraud protection tool for your peace of mind on your Visa Credit Card. If unusual transactions occur on your credit card, you will receive texts and/or emails asking you to confirm if the suspicious purchases are valid or not. We will only ask you to verify purchases.
We will not ask for your account numbers or personal information.
Please make sure you update your contact information with the credit union in order for us to reach you in a timely manner to prevent any fraudulent transactions on your account.
---
Get Away Today Vacations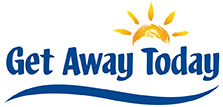 Get Away Today has been helping families create magical memories at the Disneyland Resort and beyond for 25 years. Their Best Price, Best Service Guarantee has helped over 4 million guests take affordable vacations to over 1,900 destinations worldwide and their Vacations = Donations. They have a donation program where they donate a portion of each vacation booked by a credit union member to the Children's Miracle Network. So far they have raised over $3.5 million to help kids. Let them help you plan your next vacation. Click on the link above or call (855)-GET-AWAY.
---
Enterprise Car Sales!