News
Annual Meeting

Virtual Branch

Service Access Guide

COVID-19 Update

Credit Sense

Debit Card Services

Mobile Banking

VISA Account Updater

Text Fraud Alerts

Annual Membership Meeting

At this time, we are unsure when we will have our 96th Annual Membership Meeting. While we continue to monitor the Covid-19 situation, our members and staff's safety is of the utmost importance to us. Please make sure we have your correct email. We will send out an email with any new updates. We have found this is one of the quickest ways to inform our members with any changes, upcoming events and loan promotions.
We thank you for your patience and understanding during these unprecedented times.
---
We are excited to announce that our Virtual Branch and Bill Pay are getting a NEW look.
All information from the old systems including your Login ID, Security Code, six months of payment history, all payees and payment information will be moved to the new Virtual Branch Next and Bill Pay systems. We will no longer use a Security Phrase in the new Virtual Branch.
In addition to a fresh new look that makes it easier for you to perform everyday functions, our new NPOCU Online Banking will offer you:
Virtual Branch Next. With the new look Virtual Branch Next, it makes it easier to navigate home banking. Our new system offers personalized alerts that allow you to receive notifications based on account activity, making it easy for you to stay on top of your money. We have a help guide to help you navigate through the upgraded system.
Virtual Branch Next Help Guide


Better communication with us. If you have a question about a specific transaction, NPOCU Online Banking will offer secure communication with our "Message Center" during normal banking hours to get it answered.


Bill Pay. You can continue to pay bills without missing a beat. Payee addresses and your payee account information will be brought into the new NPOCU Online Banking automatically. We have a Bill Pay Help Guide to help with the new look of the service
Bill Pay Help Guide


As always, we thank you for choosing us for your financial needs and we look forward to bringing you the new and improved Online Banking experience.
---
Service Access Guide
We have created this easy guide/chart to show you where to go to access a NPOCU service.
Service Access Guide
---
COVID-19 Update
February 12, 2021
The safety of our members and staff is always our top priority. With the recent Credit Union closure, it shows COVID is still a serious concern. We are closely monitoring the current COVID situation. Hopefully, with the vaccine programs, it will get under control soon. However, for now, our lobby will stay accessible by appointment only and members will be required to wear a mask when entering the credit union. Our drive-thru is open. Our home banking and mobile app with mobile deposit are great tools you can use from the comfort of your home. We appreciate all our members' patience during these trying times.
---

Get your free credit score with our new Credit Sense financial tool!
Credit Sense financial tool is built right into our already easy-to-use Online Banking and Mobile Banking App, so you don't need a new login. Benefits of checking your score today include the ability to:
Receive monitoring alerts;
Identify credit bureau errors; and
See best rates available for you based on your score!
To enroll in Credit Sense simply log into your Home or Mobile Banking and click on the quick link to your credit score. Credit Sense will ask some enrollment questions to verify your identity and then you are ready to use it.
---
New Debit Card Services
Premium Texting
A Premium texting service has now been added to the NPOCU Debit Cards. Premium texting will allow you to receive and respond to Fraud Alerts via text message on your phone. When a fraud case is created, eligible cardholders with a valid text address on their card will be sent a Fraud Alert text regarding their card immediately between the hours of 8:00 am – 9:00 pm local time to the phone number on file. The name on the text you will receive will be
Nashville PO CU
.
Call Center
Our Debit Card call center can now handle additional calls after hours when you need help with your debit card. Have you ever needed to report that you were traveling or needed a temporary increase on the limit on your card? Our Call Center at
800-472-3272
can now help you with that. You will be emailed or texted a one-time passcode that you will provide to the call center. Once verified, the call center will be able to help you with many options.
To sign up for both of these services, please contact our member services department at
615-871-4221
. We just need your cell phone number and your email address to sign up for both services.
---
Have you got our Mobile Banking App?
Access your accounts anytime any place with the Nashville Post Office Credit Union App. We know your life is busy. Our mobile app is a convenient, secure, and fast way to conduct your credit union transactions. The mobile app allows you to:
Check Balances
View Transaction History
Pay Bills From Your Account
Transfer Money
Make Loan Payments
Set Up Alerts and Notifications
View ATM Locations
See Loan Specials
Find Share Branching Locations
Access The Credit Union's Website.
If you have home banking and a smartphone you can download the app on the Apple App Store or Google Play. If you have an iPad, you can download the app from the iPhone section. You can log into Mobile Banking with the same User Id and password that you use for Virtual Branch home banking. If you change your password in one it will change it in the other program because the same credentials are used for mobile banking and home banking. For more information see our Frequently Asked Questions.
---
VISA Account Updater

The NPOCU Debit and Credit cards provide the automatic Visa Account Updater (VAU) service as a free benefit to you.
Are there merchants you have given your Debit or Credit Card to keep on file for recurring payments? If so, this applies to you.
Whenever your card(s) expire, are lost, or stolen and new cards are issued, the service may update relevant card data (card number and expiration date) to appropriate merchants who participate in an effort to facilitate uninterrupted processing of your recurring payments.
| Examples of Recurring Card Transactions | Examples of Account on File Transactions |
| --- | --- |
| Netlix, Hulu, or other streaming services | Uber, Lyft or other ride services |
| Monthly Utilities | Online Shopping Websites |
| Gym Memberships | Online Payment Services |
| Insurance Premiums | Presriptions |
| Recurring Charitable Donations | |
To Opt Out of this service anytime, please contact Member Services at 615-871-4221.
---
Visa Credit Card Text Fraud Alerts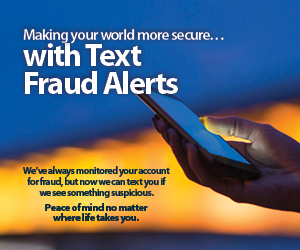 We have new fraud protection tool for your peace of mind on your Visa Credit Card. If unusual transactions occur on your credit card, you will receive texts and/or emails asking you to confirm if the suspicious purchases are valid or not. We will only ask you to verify purchases.
We will not ask for your account numbers or personal information.
Please make sure you update your contact information with the credit union in order for us to reach you in a timely manner to prevent any fraudulent transactions on your account.