Kirby Kangaroo Club
It is never too early to teach kids the importance of money management. That is why the Nashville Post Office Credit Union is here to help!
Kirby Kangaroo Club is a club just for members up to age 12. Once they join, kids receive a Kirby Kangaroo Club membership card, a Kirby Club passbook, and other club prizes. Click on Kirby to visit the Kirby Kangaroo Club website. The Club website has fun games, jokes, and stories just for kids.
---
Kirby's Calendar for Kids!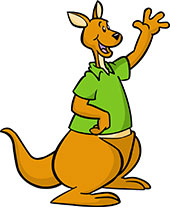 June 2023:
June 14th:
Flag Day
June 18th:
Father's Day
June 19th:
Juneteenth
July 2023:
July 4th:
Independence Day
---
A Joke from Kirby:
Question:
What do you call a lazy baby kangaroo?
Answer:
A pouch potato!
---
Claim Your Youth Club
We are very excited to introduce our Claim Your Youth Club® for teens age 13-18. The Claim Your Youth Club® Teens Financial Network is an innovative program sponsored by credit unions across the nation. The program features attractive full-color print materials and a state-of-the-art website where teens can access a wide variety of financial information and use interactive tools to help them achieve their goals.
---
NPOCU Youth News:
We encourage all of our young members to join one of our youth clubs. The Kirby Kangaroo Club is for children up to 12 years old. The Claim Your Youth Club is for youth 13 to 18 years old. Some of the benefits you get from joining one of our youth clubs are a quarterly newsletter, access to the clubs' websites, and the credit union will put the first $5.00 into your new account if you are 18 years old or younger. Also, members of the Claim Your Youth Club that are 16 years old and older can opening a checking account with a guardian as joint owner. Sign up today and start enjoying the benefits!